Many people will encounter this or that problem when they are purchasing our service plan. The following is some payment problem and its solution.
Question:
there is money in the PayPal, but the system says that payment can not be made and the credit card needs linking

Answer:
currently, there are two paying modes in PayPal. One is PayPal Subscribe and the other is PayPal Check Out. The paying mode of PayPal subscribe is recycling subscription which is known to you. Recycling subscription requires that PayPal should be linked to credit card. However, PayPal Check Out is one-time payment which is named as buy now mode in our system. And buy now mode do not require linking credit card and you can make the payment when there is money in your PayPal.
Question:
how to purchase your service plan?
Currently, our service can only be paid by PayPal in either paying way mentioned above.
Recycling subscription mode is defaulted.
Advantage: it frees you from the bother of operation, because you need not to renew your service manually. And if you want to use our service for a long time and keep your data continuously, it is advised that you choose the recycling subscription mode.
Disadvantage: credit card linking is required.
Buy now mode is a one-time payment mode.
If you cannot subscribe, you can choose Buy Now mode, namely one-time payment mode. Compared with buy now mode, recycling subscription mode is more convenient, because you cannot renew your service automatically in buy now mode. It is probable that we clear off part of your date, because you have forgotten to renew your service automatically for one or two weeks or even a longer time.
Advantage: you can make the payment without linking your credit card to PayPal
Disadvantage: you should pay for your service manually every time. And if you forget to pay for it, you will be degraded after service package expires which will bring about unnecessary problem to you.
Question:
how to make the payment in Buy Now mode.
Click the plan item in navigation bar.

Choose the plan you want, and then click Change Payment Method  item.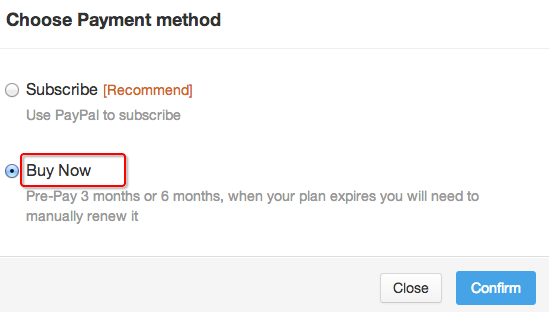 Tip: currently, there is payment for 3 months and 6 months available in Buy Now mode.
Questions: how to change the plan?
Answer: there are two cases
1. If you want to change the plan during probation period, click the plan item and then move to the bottom of the page, you can see the Change Payment Method item.
2 .Click change plan item in payment item. And if you want to upgrade your plan, you only need to make up the corresponding balance.

Question:
if I have subscribe, how can I change the plan
Answer:
you should first unsubscribe it and then your plan will be changed into a free version. After that, you will see the change plan item.

Question:
How can I cancel the payment if I do not want to pay?
Answer:
enter into service package or PayPal to unsubscribe it.